piaggio mp3 test ride review
Date Posted:14 March 2019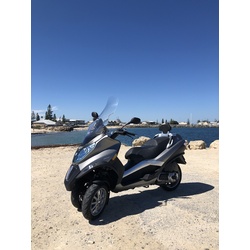 PIAGGIO MP3 - WHAT WE THINK . . . . .
So being such a beautiful day I thought I would grab the chance to take the Piaggio MP3 we currently have in stock for a coffee and scoot in and around Freo.
The Piaggio MP3 is a 3 wheel scooter with electric locking front suspension and because of this gets a LOT of looks when you come to a stop, in fact I even got chatting to a fellow MP3 rider whilst parked up who agreed they certainly turn heads!
Now, the locking suspension itself is easy to use but you do have to be aware of it. Simply flick the button on the right-hand switch control left or right for lock or unlock it will beep and the wheels are locked – easy. What you must be aware of is if you stop on an angle or the scooter is not upright this is how it will lock. When you are ready to move on simply twist the accelerator you hear the beep and off you go.
Setting off from the showroom I headed to the South Mole and over train tracks, speed bumps, gravel and pot holes the MP3 handled great, a smooth ride and with the extra wheel it almost inspires extra confidence in the front end. Sitting tall gives fantastic visibility and with the extra blind spot mirrors added on this one you can see everything in front and behind, great for the busy stop start traffic of Fremantle centre.
A great spot for a photo as you will see on our Instagram account, from here I headed through the town and even at low speeds the MP3 is still a very agile bike and easy to manoeuvre.
Out to South St and a blast back up Stock Road brought me back to the shop and the scooter always kept the pace with plenty left to go, this scooter would easily handle the Freeways.
So with locking suspension, huge storage space both under the seat and in the boot, a responsive 278cc engine and some nice extras added this Piaggio MP3 will make a great city commuter that can also hit the Freeway and clock up some K's at the weekend.
I like these scooters I really do and coming from someone who rides a Vespa PX that's not what you would expect to hear.
In stock right now and recently reduced in price to $3990 why not come and take a test ride and see how good it is.
Available TODAY what are you waiting come and check it out in our Fremantle showroom, call us on 08 9433 4613 or e-mail dan@scootershop.com.au for full details and you could be riding away within 24 hours.
Easy in-house finance is available to approved applicants.
CLICK HERE TO VIEW THE SCOOTER
---
Leave a comment