WA 500
Date Posted:5 June 2018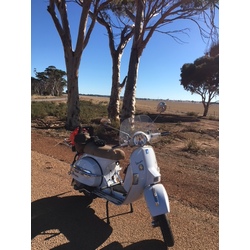 If you were checking our Facebook or Instagram at the weekend you see that Dan entered the WA 500 classic endurance ride on his Vespa PX 200, here's what happened in a day of scootering, cold, sunshine, smiles and break downs!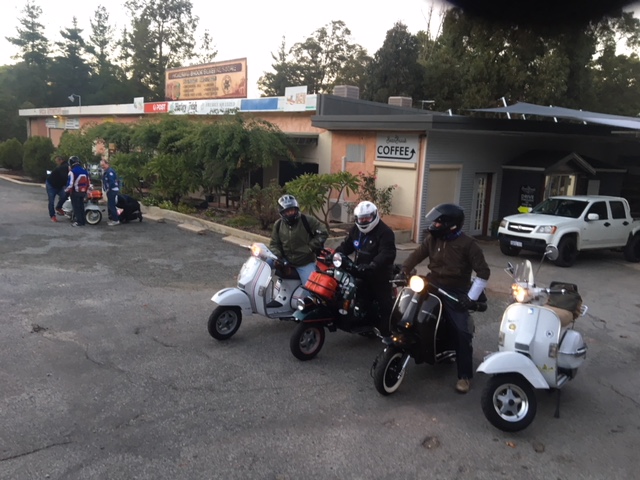 I've wanted to do a long ride on my scoot and get out and see Western Australia since I arrived 3 years ago and this event I thought would be perfect, it can't be that hard to do a day riding surely, after my 2 team mates dropped out though I started to think there might be more to it than I thought.
We started off from Captain Munchies in Freo in the cold dark morning at 5:30am with a quick briefing, a super large coffee and the all-important team planning with mey new running buddies. I couldn't believe how COLD it was, I've ridden in all weathers, but this was Baltic! I rugged up with 2 jumpers, long sleave shirt, waterproof pants and full winter gloves luckily because it was only going to get worse.
Our start time was 6:05 and from a standing start we kicked the scoots into life and off we went to the first check in point - Pickering Point general Store, in true Dan style I led the way and MISSED THE VERY FIRST TURN. We soon caught up with another group with a much better navigator though and tagged on with them to the check point.
Leaving Pickering Brook the next stop was planned for Beverley but within 5 minutes of being in the hills through the national forest it was that cold you couldn't see where you were going, visor was fogged up, screen was misted, mirrors were frozen and my hands have only just warmed up thankfully as we came down and hit the open road the sun was starting to glow. We were later told the support vehicle showed -1 outside temp!
From Beverley we were supposed to travel a "few K's on unpaved roads" more like 17 K's on pee gravel and dust! It was a nervous and twitchy section and the poor PX took a bashing but hung in strong – until later.
Quarading was the next stop and this was for a quick fuel and hand warm before the timed section to the Ettamogah Pub and with what I though was a respectable time of 35 minutes 11 seconds achieved things were starting to look good and the sun was actually hot so I could finally take the waterproof pants off!
At this point we decided to push on to the next check point to have lunch as time was ticking away so we checked the map and off we headed to Jennacubbine where we were to find a lovely little tavern down yet another unpaved road THAT WAS CLOSED! Leaving here was on a red dust track and unfortunately, I missed the best line and ended up snapping my speedo cable and bending something in the front, scooter still ran fine just didn't like to turn right!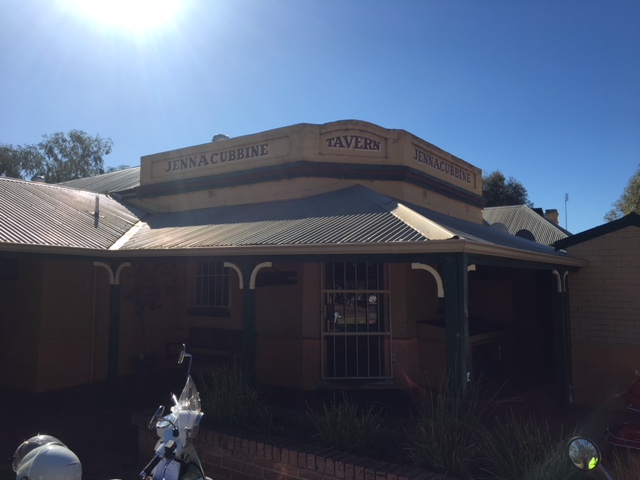 Toodyay was the next fuel place we planned for so we pushed on and arrived a short time later where I tried what was claimed to be "Australia's best pasty" to be hones at 3pm and still not being able to feel my fingers anything would have tasted gourmet! I did a quick check over and made sure the scooter was road worthy.
The run back to Perth was upon us and with a beautiful stretch on O'Brien road it was time to settle in and nurse the scoot home, unfortunately not everyone managed to make the final stretch and a classic Vespa joined the Lambretta that had gone bang 200 K's ago on the trailer just as we were getting in the twisty parts.
Just outside of Guildford we had our final brake down and a PX of all things with some rear hub issues and we made the decision to deviate slightly from the marked route to get home before it became too late.
We finally arrived back at Captain Munchies at 6:11pm having travelled 511 K's and with myself and 2 others of the 7 that left Toodyay still riding I'm claiming it as a victory.
An amazing experience and brilliantly though out route I can't wait to get involved again next year!
Now its time to get the scooter in the workshop and see what damage I did.
---
Leave a comment