VESPA SPRINT S RIDE REVIEW
Author: Dan Date Posted:4 October 2019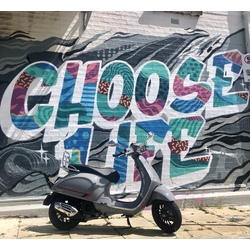 Our latest 150cc demo has arrived and seeing as we have had a Primavera recently, we thought we would change things up a little and try the new Vespa Sprint S.
Now this model shares the same chassis and running gear as the Primavera, both have the 155cc i-Get engine with automatic transmission and front disc ABS as well as USB charger in glove box and ample under seat storage.
Where things change is in the external styling with the Sprint having a squared, more aggressive and sportier looking headlight, multi spoke wheels in black, white piping on the seat and decals.
Personally I prefer the Sprint styling and in the new Grey it's a stunning Vespa, it just has more of an edge to me but I may also be sentimental as one of the first vespa's I sold many years ago was an LX S which is just an older version of the Sprint.
Yesterday was my first opportunity to take this new demonstrator for a run and with it being bright and dry I thought it was time I found out just what this 150 can do and man was I impressed! For a mid-range commuter, it will easily top 100 K's an hour, (in fact 104 with myself on!) which I believe is more than enough top end for a scooter of this size and acceleration wise it's smooth all the way through. OK you don't have the big punch of the 300cc but if you really wanted to feel that a Malossi variator upgrade would have this singing too.
After a Freeway blast, I pottered through Perth back along the river and enjoyed every minute of it, the seat height and narrow chassis make a really easy scooter to ride at slow speeds and it is so well balanced on the twists you can't help but smile.
The ABS brake gives you a powerful and responsive front end, it was dry yesterday but I think even in the wet I would be happy and with 12 inch wheels the ride is comfortable.
The latest S version has the LED headlight which is bright and adds to that sporty look as well as the new Vespa "Tie Design" horn cover which we see on all its current models.
Under seat storage is more than ample I ride in an RXT Stone helmet and it actually fitted under the seat which is very rare for a full face helmet and the glove box with USB charge is just the right size for your phone so it can be charged and is out of the way.
I am impressed with this scooter, if I was looking for something for a longer commute that did not need to do a lot of Freeway K's, I meen you will be fine for a junction of 2 at 100 KMH but wouldn't want to be on it all day, this is perfect. Put a passenger on at the weekend and head out to explore WA it will do it and all whilst looking cool.
I am a big fan of the GTS 300 but after actually spending a couple of hours on the Sprint, trying a few different roads and speeds I don't think you can go wrong with one of these unless you really need the big chassis and Freeway capability.
This demo is in stock right now and available to test ride all you need is a full license and to book in by calling us on 08 9433 64613 or e-mail sales@scootershop.com.au
The Vespa Sprint S is available in 3 colours Matt Blue, Gloss Grey, Gloss Black and is currently priced at $7890 Ride Away, link attached, and with LOADS of accessories you can put your own stamp on it.
There is a Carbon Bianco Ltd Edition currently available for $8290 which can be seen here.
I suppose the big questions I always ask is can I see myself ringing one of these instead of my PX? Well, the answer is always going to be no as nothing can replace "Lola" BUT if my commute was different I would have to seriously consider the Vespa Sprint.
It's in the showroom right now as a demo so come and take a ride will be great to hear your thoughts.
Dan
Prices / colours / availabilities are correct at the time of writing this 4th October 2019 but may change.
---
Leave a comment