Vespa Sei Giorni has arrived!
Date Posted:19 April 2018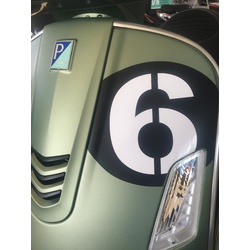 On Wednesday we received our first and possibly only Limited-Edition Vespa Sei Giorni!
This limited edition 300 pays homage to the scooter that was produced after the 1951 "Sei Giorni Internazionale" when the Piaggio Squadra Corse astonished the racing world and earnt a staggering 9 gold medals triumphing over actual off-road motorcycles!
The original Sei Giorni model which was named after the victory was very similar to the standard model aesthetically but fitted with a larger fuel tank, a streamlined leg shield and a large side bag, that model is one of the most sought-after Vespa's to this day.
The limited-edition Vespa Sei Giorni based on the ever-popular flag ship GTS 300 pays homage to the past with unmissable low headlight on the front mudguard last seen on the GTV model and exposed metal handlebars. The sport spirit is highlighted with a sport seat and screen, black number on the front and rear of the scooter, black wheels with new badging, muffler guard, red badging details and of course the numbered special edition plate all in a one off matt green paint.
With only 36 produced for the Australian market and huge pre-sale numbers we have been lucky to secure one for stock.
This won't hang around so come and see us or give us a call on 08 9433 4613 and secure a modern classic before it's too late!
Check out the full model here.
---
Leave a comment