PIAGGIO ZIP 50 REVIEW
Date Posted:4 July 2017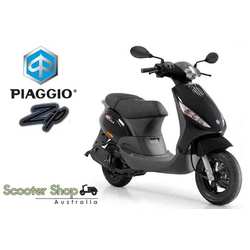 The Piaggio Zip has been around for years, it's been a 2 stroke 50cc, a 4 stroke 50cc and even a 100cc. I remember when I started riding on the road years ago it was one of the first scooters I rode and today it's still the same shape it's just better.
As the lead in model of the Piaggio range it's a great option when looking for a budget scooter if you want quality, reliability and longevity. Yes, there are some super super cheap 50's on the market you can get into for $1600 with everything but the kitchen sink included but you have to ask yourself if they are any good then why are people giving everything away with them and why are they so cheap?
I've sold Piaggio Zips with over 20'000 K's on the clock and they have run just as good as new ones.
For a budget scooter the Zip has a few features you would not expect to find like a height adjustable seat with 3 settings, alloy wheels and a Euro 3 compliant engine.
The Piaggio Zip is much smaller than the Piaggio Typhoon or the Aprilia SR range and this lends itself well to a smaller rider overall or those with a small leg, the foot board is narrow and with only weighing 89Kg its light, nimble and forgiving so very easy to learn to ride.
As the name would suggest it's a very "Zippy" scooter and capable of doing 65 – 70 depending on the rider with a level 1 tune, its super economic and with a 7.5 litre fuel tank, the biggest of all the 50cc's we offer, you can run it all week on just a few $'s of fuel.
If you want something to do a smaller commute on, maybe park at the train station or head to college on without breaking the bank then this must be a scooter you try out, it's fun, its quick, its light it ticks all the boxes and with it being Piaggio you know it's going keep doing everything you need for years to come.
Available in White, Black or Blue and top boxes are available from only $259 fitted this is definitely my choice of budget 50cc.
So, What Does A Scooter Like This Cost?
$2390 Ride Away with 2 years unlimited kilometre warranty (most competitors only offer 3, 6 or 12 months) and 6 months rego (compared to 3 months)!
0 % finance is available with NO deposit and we always have one in stock so give us a call and come in for a test ride you will not be disappointed.
Don't forget you can ride this on a WA car license or from 16 with a moped license, can park for free in the city, suburbs and at the beach, pay one of the cheapest rego's around and get the befits of a super-efficient engine.
Check out the full specifications and colour range here.
---
Leave a comment