APRILIA SR 50 R FACTORY REVIEW
Date Posted:16 June 2017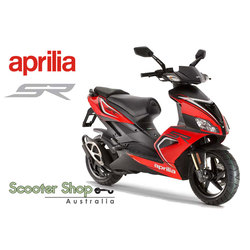 We recently became an Aprilia scooter dealer, the brand fits great alongside our Piaggio's and Vespa's it's still Italian, they are European quality but best of all they offer something different – a sports derived 50cc, the Aprilia SR 50 R Factory.
Now I've ridden countless scooters and bikes in my time from fully restricted 50's to sports bikes and even 2.3 litre cruisers but this scooter impressed me!
At first glance you can see that the SR 50 Factory was designed with race pedigree in its heart, striking colour scheme and graphics, elegant yet aggressive head lights and the air vent in the front grill for the radiator, that's right this 50 is liquid cooled. Its sport seat hides enough room for a helmet and with 13 inch wheels with disc brakes on both it's in a category all of its own.
As with all the best 50cc scooters the Aprilia SR 50 Factory is 2 stroke but where this one stands out is that it is liquid cooled, what does that mean, well straight out of the box it's the quickest 50cc on the market and dare I say it the best looking?
We quickly prepped the first one we had in stock and I couldn't wait for a ride, believe me it did not disappoint!
The power is instant and smooth from a standing start it pulls quickly through 10 - 20 -30 – 40 -50 – 60 and even 70 kilometres an hour and with a few modifications I believe this scooter is capable of 100 +! It feels solid going through corners at speed with its 13 inch wheels and racetrack derived shock absorbers, it stops safely and quickly and really is a fantastic scooter to ride.
I took a trip through Freo, zipped over to Willagee then headed to the city and I couldn't fault it, this needs to be ridden to be appreciated.
If you're looking for a scooter to ride on a car license but want that bit extra then this is the one for you, it's awesome to look at, it's awesome to ride, its economic, its cheap to run and at $4190 with 6 months' rego and 2 years warranty its priced right too.
Check the full specs and colour range out here.
---
Leave a comment