Eldorado scooter gloves.


Finding the right riding gear is always a challenge, there's so much choice out there and whilst we want to be safe we also still want a sense of style and not to look like we've found some of our dads old riding gear at the back of the garage.
The Eldorado riding glove ticks both boxes and I had the pleasure of taking a pair to see just how good or bad they are.
Available in washed out brown and black, I chose the brown purely for the aesthetics, they have a retro look with perforated fingers and short wrist strap and go perfect with my Parka, Bell Bullitt and the PX.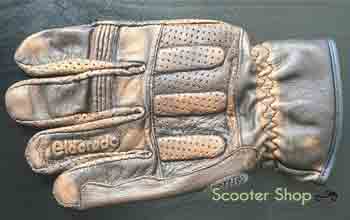 Fit wise they are a short glove so stop on the wrist and fasten with a Velcro strap, unlike some gloves I've tried the fingers have ample room and it's very easy to reach and use all the controls on the scooter if anything the gap between thumb and index finger could be a little bigger but I had no problems and use a Large.
The fingers are perforated which lets plenty of air around the hands, this is perfect for now and in the height of summer but as winter sets in they would be too cold in my opinion, not that winter is coming!
There is no Kevlar protection or knuckle guard in these gloves but being a scooterist it's not something I usually look for, there is some soft padding on the outside of the knuckles and at the side of the palm.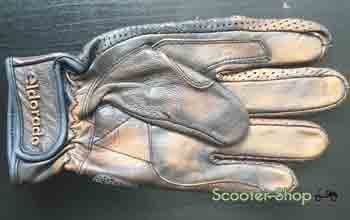 I went out all weekend on my PX and from the cool run for morning coffee to dinner on the coast the gloves did everything I wanted and have been added to my ever growing kit.
Overall, I like the look, I like the fit, the quality is good and for a scooter rider through Spring, Summer and Autumn this glove will be perfect and at $64.95 its affordable.
Brown and Black are available in store now in Medium, Large and Extra Large all for $64.95.
---
Leave a comment