New Engine and ABS for Sprint and Primavera Models
Author: Steve Date Posted:22 September 2013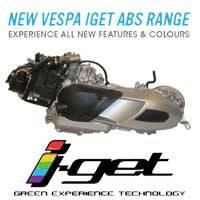 Late 2016 has seen the arrival of the new Iget models of the well known Vespa Primavera 150 and Vespa Sprint. First thoughts were its great to see new colours but the more I looked the more impressed I was.
There is no going past the ABS Anti Lock Braking System is a massive upgrade and fantastic safety feature. ABS put simply means that the wheels are prevented from locking up when braking and avoiding uncontrolled skidding. With both the Primavera and Sprint this has meant the introduction of a 140mm rear disc brake a far cry from the drum brake found on previous models.
Before we discuss the great new Iget engine there are several smaller upgrades that impressed me. Firstly the seat is now an electric open rather than key style, This is the same sytem found on the GTS models. The glove box compartment also now has its own USB charger, fantastic for keeping our mobile devices going while out and about.
For the last couple of years the Vespa Sprint has always been the small chassis Vespa with 12 inch custom wheels while the Primavera stayed with 11 inch wheels creating a real point of diifference. Tne new Iget has seen the Primavera 150 upgrade to 12 inch wheels with custom mag rims and they look awsome.
Happy days new colours, check these out great to to see the Arancio Taormina (Orange) making a come back
As mentioned the new Iget is the launch of the new engine with a real focus on being as enviromentaly efficent as possible. Based around the previous engine the concept is still a 4 stroke air cooled fuel injected engine.
The injection system has been optimised and improved in terms of efficiency; the ECU now has a barometric sensor that guarantees optimum combustion every time in any condition. This means that the power and torque output reach new and high levels of regularity and reliability, even in the city with constant "stop and go" riding.
These engines are extremely environmentally friendly since they are approved in compliance with the Euro 4 Multi-Directive, and they are capable of performance which is at the top of the category: the i-get 150 cc has maximum power and torque that measure in at 9.5 kW maximum power at 7,750 rpm and 12.8 Nm maximum torque at 6,500.
Most importantly was my first ride impression best described as Wow. The new I-get feels solid on the road with ample power. I strongly recomend coming in store for the opotunity to take our demo Vespa Sprint out for a test ride and see for your self.
---
Leave a comment