NEW 2017 VESPA & PIAGGIO MODELS LAUNCHED!
Date Posted:18 July 2017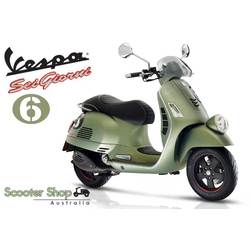 The second half of 2017 is set to see some exciting new colours and special editions to the Vespa & Piaggio range! We have just received a brief over view of what is coming and we are very excited and are sure you will be to, so what's coming? Well . . . . . .
Following on from the huge success of the 70th Anniversary model Vespa are set to release the GTS 300 "Sei Giorni" which is styled on the original Vespa six-day racers of the 50's and is set to be the most sought-after model to date! This scooter will have all the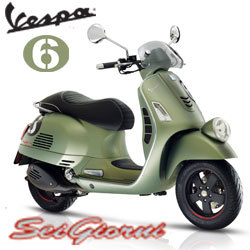 running components of the 300 plus "Sei Giorni" graphics, headlight mounted to the mudguard, GTV styled open handlebars, Matt Black finishes, sports saddle, smoked screen, Matt Black handlebar blocks and switches! This model will be in very limited units and price is yet to be announced but pre-orders are available so don't delay and miss out on this amazing Limited-Edition Vespa.
The flagship Vespa GTS 300 is now available with a Euro 4 upgraded engine and whilst we have not yet ridden one we are hearing from our friends in Europe that a good thing has just got better! The GTS will be available in White, Red or Black and has a new seat trim and wheels price at this point is believed to be $9990 Ride Away.
Vespa GTS 300 Super Sport will be available with the Euro 4 engine upgrades and in an exciting new colour Matt Yellow which is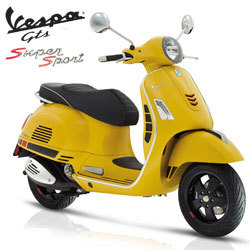 already proving popular with forward orders flying in and Matt Grey! This model will have new Super Sport Graphics, new saddle and stitching, new wheel trims and is expected to retail for $10'300 Ride Away, available late August.
Sticking with the GTS range Vespa have re-done the 150cc version with a water cooled I get engine, new seat trim and it is available in Matt Red or Black with new stickers, again this is set to arrive late August / September and at this point is available for pre-order.
The Primavera range is set to see a new colour "Azzuro Pastello" or baby blue and the white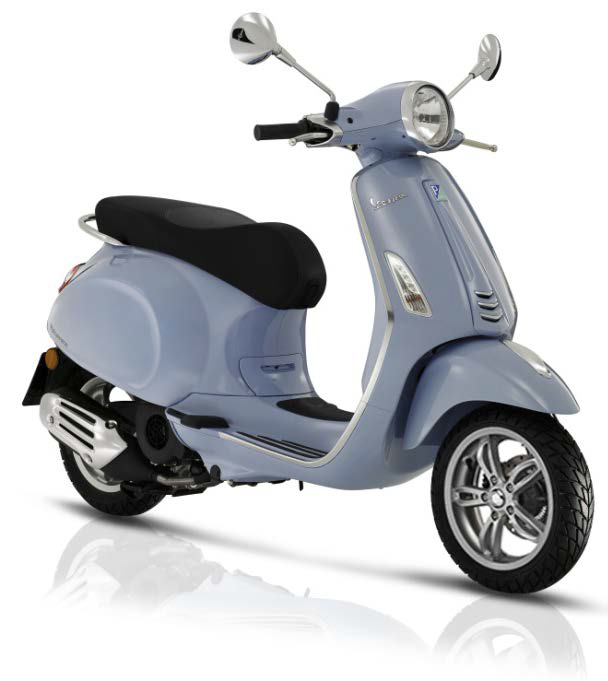 version is having its saddle changed from red to dark brown / tan and there will be the release of a Limited-Edition version the Vespa Primavera "Arcobaleno". This version is due to arrive in August and is available for pre-order right now it will be very limited and comes in the new baby blue colour with Arcobaleno (rainbow) badging and a summer kit with beach bag and towel, price to be confirmed.
The Vespa Sprint is available in a Limited Sport Edition which follows on from the hugely popular Adventure model. This is going to be available in Matt Yellow or Matt Silver with only 19 of each being made! Both will feature Matt Black rims, mirrors, body trim, muffler cover and will come with a Vespa folding rear rack and smoked flyscreen. These are expected late August / early September and pre-orders are available now.
The Piaggio BV 350 Beverley has been upgraded and renewed with a new Euro 4 compliant engine, Matt Grey trim, double stitched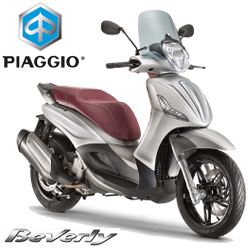 seat, the 12V charger has been swaped for a USB, it has new seat release with a remote fob and will be available in new colour Carbon Black which will be a satin finish, we expect to see our first one any time now.
The Piaggio Medley will be available in pearl White, Matt Red and a new Black and the Piaggio Fly, Australia's favourite scooter is to be available in Matt Grey.
These editions will sell out fast, if you look at the 70th anniversary models some stores didn't even get one for stock so don't miss out call us now and register your interest before it's too late!
---
Leave a comment