Christmas opening hours
Date Posted:8 December 2018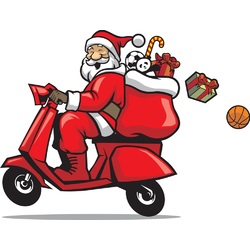 Christmas Hours.
Scooter shop Australia will be open the following days / hours over the Christmas period:
Saturday 22nd December 8:15 am – 1 pm
Sunday 23rd December – Closed
Monday 24th December 8:15 am – 3 pm
Tuesday 25th December – Closed
Wednesday 26th December – Closed
Thursday 27th December – 8:15 am – 5 pm
Friday 28th December – 8:15 am – 5 pm
Saturday 29th December – Closed
Sunday 30th December – Closed
Monday 31st December – Closed
Tuesday 1st January 2019 – Closed.
Wednesday 2nd January 2019 back to normal hours.

Please note that our workshop will be closed from 4:30pm on Friday the 21st December until 8:15am on Wednesday 2nd January 2019 but any scooters that have been worked on can be collected from our sales staff.
We would like to wish all our customers new and old a happy Christmas and new year, thank you for your continuing support and business in 2018.
Watch for our January shop ride being announced early in 2019!
The Scooter Shop Team
---
Leave a comment