Meet The Team
Scooter Shop Australia is Perth's award wining exclusive scooter only shop and we are privileged to have staff who not only have passion for what they do but also own and ride scooters.
The result of having a great team who use the products we sell is that you the customer can be assured of good honest advice formed from years of experience.
Whether you are just starting out in the world of scootering or a seasoned commuter we are here to help and can assist you with everything from licensing enquiries to test rides and the latest model information through to the most technical of questions.
Come in store today and see the difference a dedicated Scooter Shop can offer.
Chris Cheverall – Dealer Principal
Phone - (08) 9433 4613 option 2
e-mail - chris@scootershop.com.au
Dan Walker - Sales Manager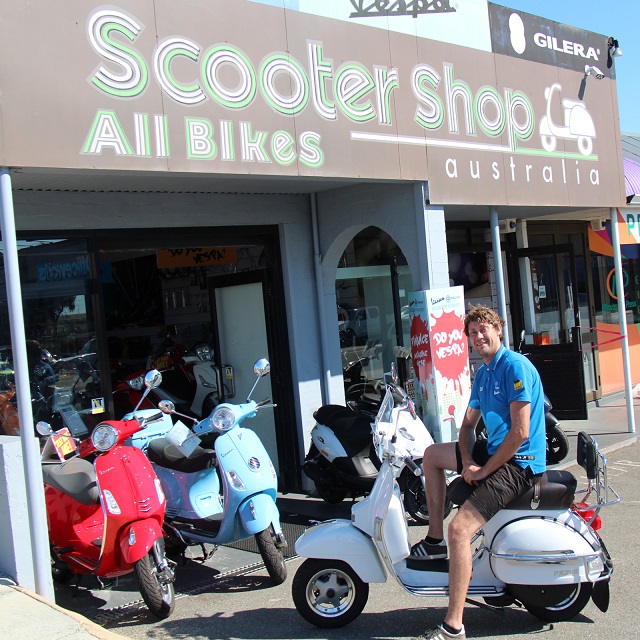 Dan joined us in 2015, originally from Chester in the North West of England he loves all things scooter related especially Vespa's.
He has been involved in the scooter industry since 2007 and was the Vespa & Piaggio franchise manager for one of the biggest dealers in England before joining us here where he runs our sales department.
Dan is your man when it comes to finding the right scooter whether it's a new Vespa GTS 300 or a cheap run around he has the knowledge to help you get the right one whatever your skill level and budget.
Dan is fully trained in finance and insurance and will get you the best package available.
Always happy to chat about anything scooter related give him a call or pop in and say hi.
Dan currently owns a Vespa PX 200 which is regularly seen out on the local scooter club runs and a 1957 Lambretta restoration project.
Phone - (08) 9433 4613 option 1
e-mail - dan@scootershop.com.au
Francesco Bietto - Head Technician
Phone - (08) 9433 4613 option 2
e-mail - info@scootershop.com.au
---