Electric Scootarelli Revival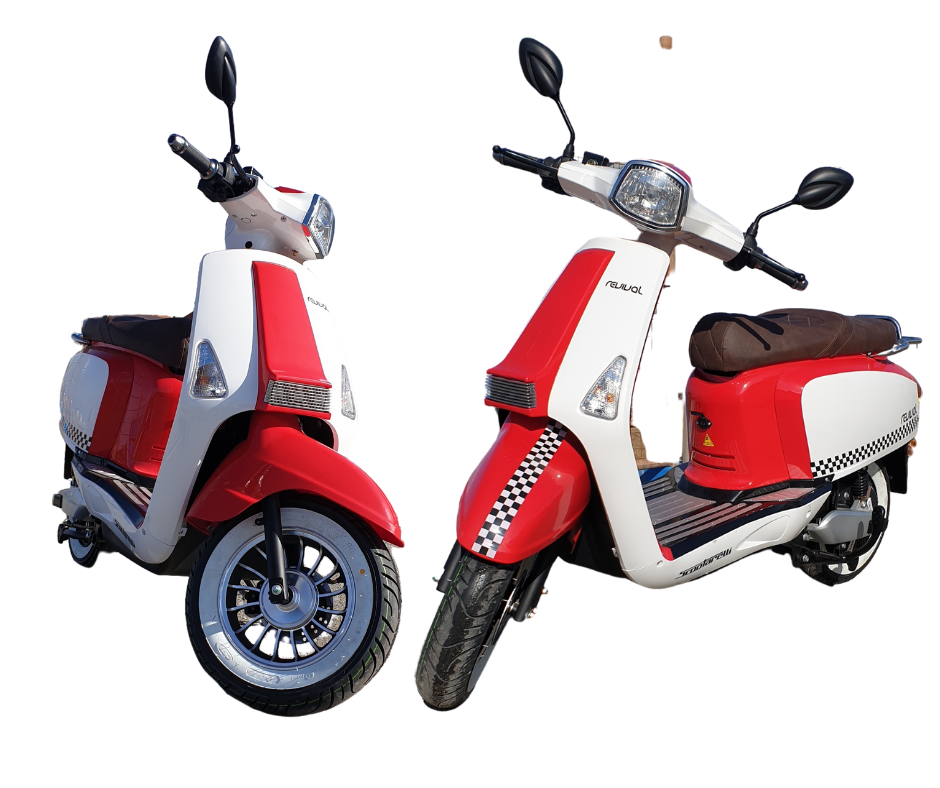 THE FUTURE OF SCOOTING IS HERE!
We are proud to be amongst the select few shops Australia wide now able to offer the all new fully Electric Scootarelli Revival moped!
Featuring an electric motor with lithium battery that can be easily removed to charge in the house or can be charged in place thanks to the accessible charging port in the chassis.
Three modes allow you toggle through performance and it is capable of speeds from 45 – 60 KMH. Distance varies depending on performance mode with figures indicating 55 – 75 kilometres per charge.
Fully automatic transmission, 10 inch wheels, front disc brake, shopping bag hook and steering lock all make it an easy to ride scoot.
This moped has the exact same chassis as the petrol version but with digital clocks and of course an electric motor.
Available in Red, Green and Yellow and will come fitted with a chrome rear carrier and white wall tyres as standard!
Fun, Economic, Quiet and Environmentally Friendly! The Scootarelli Electric is the first step towards the future of 2 wheel transport.
Why Wait? Own this Scootarelli E Revival 4T today for only $4099 Ride Away!
Call Us Now (08) 9433 4613 or e-mail sales@scootershop.com.au
***Image for reference only, actual moped colour and decalls may differ***
Never ridden a scooter but like the sound of this Scootarelli? We have an introduction to scooters lesson available that will get you confident and scooting in no time just ask for the details
"Scooter Shop Australia is Perth's award winning sole scooter dealership supplying all new models of Piaggio, Vespa & Aprilia scooters plus a full range of used, accessories, clothing, insurance, finance and servicing - Your 1 stop scooter shop!"
Need to get your license? We can help!
"Like" us on Facebook - Scooter Shop Australia.
Follow us on Instagram - scootershop_australia.
MD 27368
***images show petrol model but shape, colour and decals are the same**
---