BELL CUSTOM 500
Date Posted:14 July 2017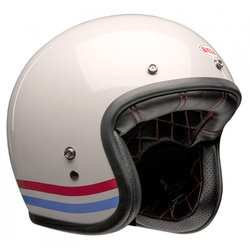 Bell have been making helmets of one form or another since 1957 and started making them for the 2-wheel sector in 1971 when they introduced the first full face motorcycle helmet, since then they have built a great reputation with scooterists, motorcyclists and cyclists alike.
A very stylish helmet company the range is huge we stock the Custom, the Shorty and the Bullit and after years of riding and wearing everything from a $30 cheapy to a $2000 race replica I am a happy Bell fan and wear nothing else.
What I like about the Bell Custom first and foremost is the size, the shell is in 3 sizes so those going with a small will not have a huge mushroom like structure on the top of their head!
Internally the comfort for myself is second to none, I have heard people say they feel a little pinch on the forehead but we all have a different head size and for me this is not so, as with all helmets you need to try it on and feel it for yourself and remember wearing an ill-fitting helmet is like wearing no helmet at all.
Weight is low so over a long journey it won't start the neck aching and if you do have to carry it round for the day it's not like lugging round a sack of spuds.
Style wise the Bell Custom 500 stripes is right up my street – old creamy white with thin red and blue stripe – its somehow an old school look but the latest in helmet technology.
I used this helmet all through the last 2 summers and only changed for the winter as I went with a Bullit, you could add a peak or a folding / fixed visor to this Bell Custom though and use it all year round.
A stylish helmet, a comfy helmet, and at $199 it's the right price if you are looking for a quality brand helmet with a bit of class.
In store right now so come on in and take a look or order online here
---
Leave a comment